Buffy Scholar/Critic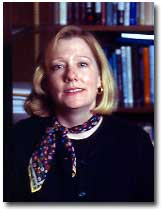 M. Cathleen Kaveny is "a scholar who focuses on the relationship of law and morality, joined the Notre Dame Law School faculty as an associate professor in 1995 and was named the John P. Murphy Foundation Professor of Law in 2001. She earned her A.B. summa cum laude from Princeton University in 1984, and holds four graduate degrees from Yale University including her M.A. (1986), M.Phil (1990), J.D. (1990) and Ph.D. (1991). A member of the Massachusetts Bar since 1993, Professor Kaveny clerked for the Honorable John T. Noonan Jr. of the U.S. Court of Appeals for the Ninth Circuit and worked as an associate at the Boston law firm of Ropes & Gray in its health-law group.
"Professor Kaveny teaches contracts to first-year law students and a course in advanced constitutional interpretation. She also teaches a seminar that explores the issue of assisted suicide from the theological, philosophical and legal perspectives — a subject about which she frequently lectures across the country. She is a member of the editorial boards of the Journal of Law and Religion (since 1991), Christian Bioethics (since 1997) and the Society of Christian Ethics' Annual (since 1997), and serves on the managed-care task force at the Hastings Center. She recently was named to the advisory board of the University's newly created Erasmus Institute, established in 1997 to focus on reinvigorating the role of Catholic intellectual traditions in contemporary scholarship." [from the Notre Dame Website]
Kaveney, Cathleen. "What Women Want: 'Buffy,' the Pope, and the New Feminists." Commonweal 7 November 2003 (www.commonwealmagazine.org/12003/november72003/1172003ar.htm).