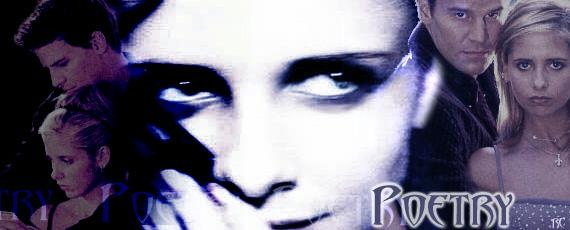 Poetry is not my forte...but I've given it a try.

You can check out the comments or you can use the links to go directly to the poetry.
Buffy/Angel Poems
DROWNING
MY ANGEL
OUR KISS
Willow/Xander Poems
WAITING
---
---
DROWNING


It's from Buffy's point of view.
And here's a comment.
"I like this, it very meaningful after the "when you kiss me, I wanna die" line in RB (Reptile Boy) ! kudos!" -----Dreamscape
---
---
MY ANGEL


This is inspired by the vamp-face kiss in What's My Line prt.1
---
---
OUR KISS
A Buffy/Angel type sentiment.
And here's a comment.
"You are definitely a girl after my own heart. Angel is so, *sigh* appealing. This poem was everything I believe they have in their romance. " ---JustAnotherAngelLover
---
---
WAITING
It goes well with Musical Chairs because it's a Willow empowerment sentiment, in which she decides to get over Xander.
Rebecca Fic