Disclaimer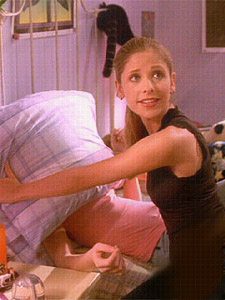 Tutta la grafica e i contenuti di questo sito sono © Buffymaniac.it, nonché frutto di ore e ore (per non dire giorni) di lavoro. Pertanto non è permessa la copia di quanto contenuto in questo sito e ogni tentativo di furto sarà perseguibile legalmente.
Inoltre, chiunque sottragga qualcosa allora... dovrà fare i conti con la maledizione biblica di Manuelit, che si abbatterà su di voi senza lasciarvi scampo!!!!
Se proprio proprio avete bisogno di qualcosa scrivete e chiedete pure... non è detto che non sareste accontentati!!
Non pretendiamo ovviamente alcun tipo di diritto sulle immagini, che non sono di nostra proprietà (per le fonti consulta i credits)
Buffy the Vampire Slayer and its trademarks are the property of Twentieth Century Fox, Joss Whedon, Mutant Enemy, and the WB Television Network.
All rights reserved. No copyright infringement is intended.
This no-profitmaking site has the only purpose to promote the Buffy series and show our love and admiration for its actors. Please contact us if you see on this website some material that shouldn't be here.