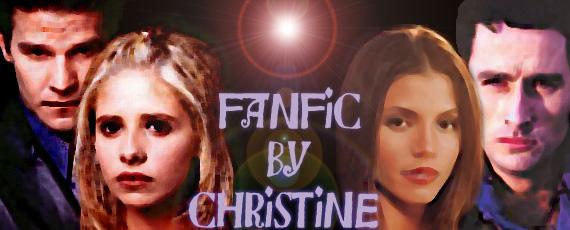 If you love angst, having a good cry, or happy endings, this is the archive for you. It's divided into three sections, so explore and bring the tissues just in case.
Buffy & Angel Fic // Cordelia & Doyle Fic // Other Fic
---

THE WILDEST TIMES IN THE WORLD
Buffy and Angel meet again in the future, but can they recapture what they've lost when time is running out?
WALKING HOME
Angel's back after Becoming, but he's been keeping a low profile. Joyce lets him know what she thinks about that.
WELCOME HOME
Sequel to Walking Home.
LETTERS
A series of letters from Buffy to Angel after he leaves town.
SONNET
Buffy and Angel try to deal with having a non-romantic relationship.
CLEAN RAIN
Buffy and Angel try make peace with their past and face the repercussions of Angelus' actions.
NC-17

HURTING AND HEALING
Cordelia is a victim of date rape. Doyle helps her cope.
NC-17
HOPE HAS A PLACE
An alternate universe. Doyle is gone, but is it forever?

EXPLANATIONS
After Amends, Buffy tries to explain the events of the night to Joyce and Faith.
CONFESSIONS
An exchange between Giles and Angel when Giles takes care of the vampire during Graduation Day 1
---
Archives // Buffer
---
All fic written by Christine, do not redistribute without her permission.
All graphics designed by Rebecca, please do not redistribute.
E-mail Rebecca about problems with the archive.